alkali-free liquid accelerator
Introduction
TOJ-D alkali-free liquid accelerator is a with excellent performance successfully developed by our company after years of effort, which is at the leading level home and abroad. This item is with aluminium sulfate as the main coagulant components, and match with stabilizer, early strength agent, viscosifier, component of soluble in water. It is suitable for majority of cement in the market, high early strength,28days less loss strength, good durability, without alkali and chlorine, environment friendly.
Product feature
1.suitable for most ordinary silicate cement sold in the market and not affected by the type of water reducer in the application process, and has good adaptability with variety of water reducer.
2.1-day high compressive strength
3.28-day small strength loss: greater than 95%
4.no chlorine ions, no corrosion to steel bars
5. no rebound rate
6.no corrosion to the construction equipment, no hydrofluoric acid and no phosphoric acid.
7.safe and non-toxic, green environmental protection.
Performance indicators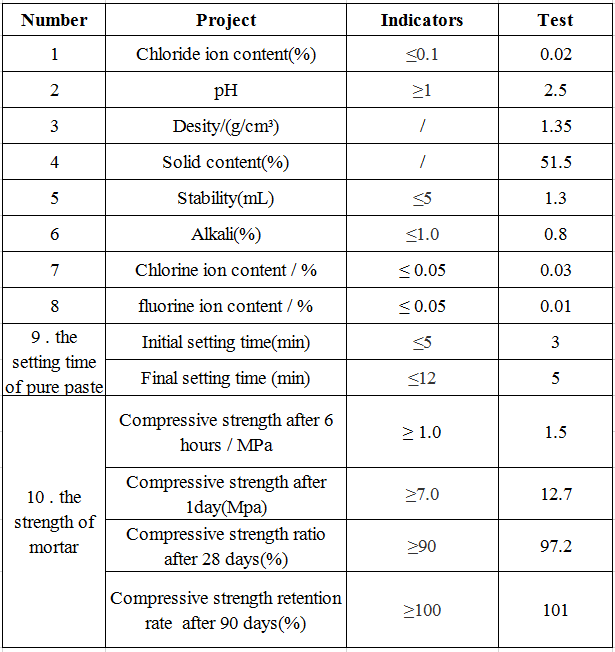 Product application
Alkali-free Accelerator is widely used in highway, railway, subway, tunnels, coal mine, hydropower project and other shotcrete, also used in other concrete engineering (plugging, fast repair) that need rapid setting
Packing&precautions
1.The item is packaged in 300kg plastic drum and can also be packed according to customer's requirements. Store in a cool place, away from direct sunlight.
2.non-flammable and no explosive , non-toxic and no harmful, can be safely transported.